These books will walk you through the basics of composing your care plans!
Click on the links below to view websites that provide care plan examples.
To access the ebooks, use your database login. Contact the librarian if you forgot the username and password.
You want more care plan books? We got 'em! These books can be checked out for two weeks, so come and get them!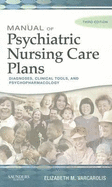 Manual of Psychiatric Nursing Care Plans
Call Number: WY 49 V289m 2004
ISBN: 0721603165
Maternal Newborn Nursing Care Plans
Call Number: WY 157.3 G795m 2012
ISBN: 9780763777425
Nursing Diagnosis Handbook
Call Number: WY 49 W686p 2009
ISBN: 9780138131142
Pediatric Nursing Care Plans for the Hospitalized Child
Call Number: WY 49 A9721p 2009
ISBN: 9780135035924
Ulrich and Canale's Nursing Care Planning Guides
Call Number: WY 100.1 H371u 2011
ISBN: 9781437701746
Nursing Diagnosis Manual
Call Number: WY 100.4 D649n 2010
ISBN: 9780803622210
UpToDate: This database will give you everyone from pathophysiology, to current guidelines, and patient education! This is highly recommended for care plans!
Micromedex 2.0- This database includes unbiased, referenced information about drugs, toxicology, diseases, acute care, and alternative medicine you need to make informed clinical diagnosis and treatment decisions.
Micromedex CareNotes- CareNotes provides your patients with complete, easy-to-understand information about all aspects of their care, medications, and health.